1000 Gram Container Moisture Trap With Plastic Hook
These container moisture traps are idea for shippers and exporters who want to keep their cargo free of any condensation or moisture damage during their shipment. This could help remove moisture from shipments including Textiles and Leather, Wood & Paper products, Pharmaceuticals, Plastic, Glass and Metal, Electronics and Machinery
Send Inquiry
Chat Now
Product Details
Container desiccant is mainly used to reduce the air humidity in container which is caused by transportation or storage m make sure your cargo in a perfect condition when shipping
1,Application:
Agricultural products,wooden productsm, Electronic products,Metal Products, Tetiles,Household products
2,Environment friendly
Container desiccant is a kind of non-toxic, environment friendly and food grade desiccant.
3,Moistureproof and safe
Major ingredient of container desiccant are calcium chloride and Amylopectin Polymer.
After absorb the air moisture, it will turn to gel directly. Constructed by multi-package material, safe, firm, totally eliminate leakage possible.
4,Superior absorption rate:
Container desiccant absorption rate can be reached above 200%, the following drawing is a data which container desiccant keep absorbing for a months in normal temperature (Shenzhen, August)
5,Usage quantity
| | | | |
| --- | --- | --- | --- |
| Container | basic quantity | basic quantity | basic quantity basic quantity |
| desiccant | CODB-91-10 | CODC-91-10 | CODC-91-14 |
| 20GP | 6PCS | 6PCS | 4PCS |
| 40GP | 12PCS | 12PCS | 8PCS |
| 40HQ | 14PCS | 14PCS | 10PCS |
Humidity problem:
During the container shipment, there is a great difference in temperature and humidity. The humidity can be moved to approximately 98%.When the temperature inside the container is lowered, the air will reach the dew point and dew point. And the water will condense. This is when fungus, mold and mildew occurs, damaging the goods. Worse yet, if the water condenses on the surface of metal products corrosion occurs.
Container desiccant is mainly used to reduce the air humidity in container which cause by transportation or storage. Make sure your cargo in a perfect condition when shipping.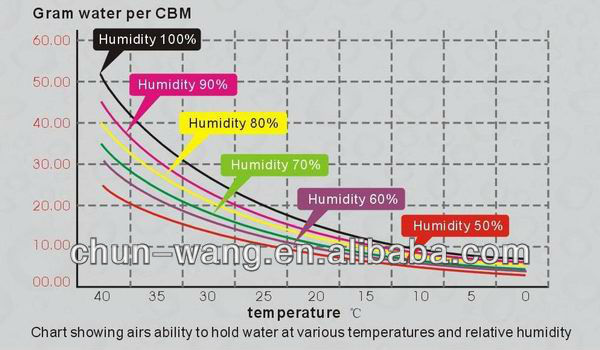 More picture show about the container desiccant in different package and weight.
Special Advantage (whether to use)
1. Ship goods without the threat of "Container Rain"
2. Inhibits the formation of mold, mildew, rust and corrosion
3. Up to 200% moisture absorption.
4. Provides 50 days or more of moisture protection
5. Prevents weak cartons and loose labels caused by moisture
6. Environmentally safe and can be disposed of as normal waste
Applicable Place(where to use )
1. Ocean, truck, rail & shipping containers
2. Protection of textiles, leather goods, shows, furniture, food products, grains, feeds, pet food, canned goods and bottled products
3. Protection of industrial products such as auto parts, machinery, metal products, paper and cardboard boxes
4. Ideal for boats & TV's as well as long term storage applications.
Established in 1998, Chunwang is well-known as one of the leading manufacturers and suppliers of 1000 gram container moisture trap with plastic hook in China. During the past two years, we have introduced advanced equipment and technology into our factory. Please be free to buy our cheap products made in China.
Hot Tags: 1000 gram container moisture trap with plastic hook, China, manufacturers, suppliers, factory, made in China, cheap
Inquiry